Crabgrass is a robust weed that can damage the health and appearance of your lawn and nearby softscape. Here at Gatsby Grounds Company, we offer pre- and post-emergent weed control services that target crabgrass. Our lawn care specialists are available to serve properties in and around Concord, Leominster, and Lunenburg, MA.
If you're unsure of why you need crabgrass control for your lawn, check out three reasons to enlist this service as soon as possible.
---
1. Crabgrass reproduces rapidly, so it must be properly handled.
Crabgrass reproduces rapidly. It reproduces via seeds, and a single plant is able to produce up to 700 tillers and 150,000 seeds. Because of its rapid growth capabilities, it needs to be properly handled. Our team prevents crabgrass from germinating in the first place with effective pre-emergent treatments. If crabgrass has already taken root in your lawn, we have post-emergent treatments to apply on your lawn.
While crabgrass grows rapidly in a variety of environments, it performs best under specific conditions. When the soil temperatures reach 55° F for four or more days in a row, its seeds will germinate faster and in greater abundance.
Our team understands crabgrass's growth tendencies and we work to ensure it stays out of your yard.
---
2. Our lawn care specialists are familiar with industry standards and techniques for controlling crabgrass.
Crabgrass is tricky because of its growth patterns, but it can be adequately handled with the right industry standards and techniques in place.
We offer superior crabgrass control services by implementing the following practices:
We never aerate, dethatch, or rake your lawn after it has been treated with our pre-emergent fertilizer.
Our team always waits 12 weeks before we perform any seeding service to allow the pre and post-emergent to control the crabgrass without interfering with seed germination.
To set your lawn up for success, we offer advice on the best mowing and watering practices for keeping crabgrass at bay. You can regularly mow your lawn and keep it at a height of around 2-3 inches during the growing season. To establish dense grass that's resistant to crabgrass, you should also water deeply once a week as opposed to irrigating lightly.
---
3. Crabgrass thrives in the summer and will reemerge in the spring.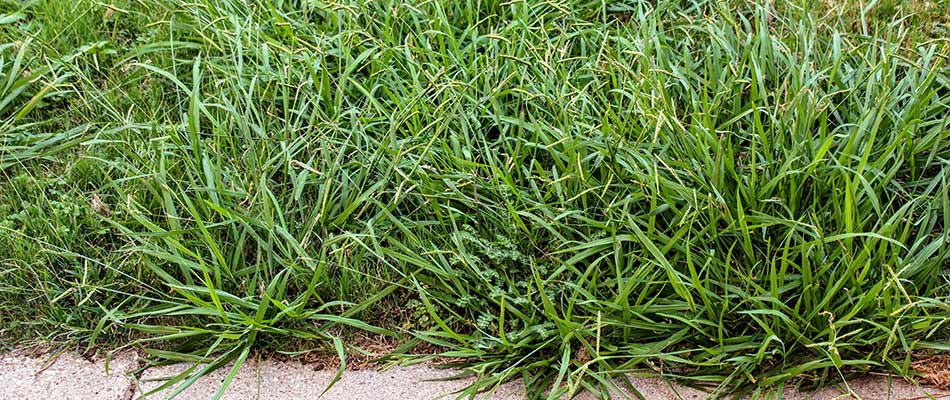 Crabgrasses, if left untreated, will achieve peak growth in late summer. You can expect frost to kill this weed off in October or November, but the problem will reemerge once spring begins. To eliminate this problem from your lawn, opt for our routine crabgrass control treatments. Call us today to learn more about how we keep your grass free of pesky crabgrass.
---
Do you need crabgrass control services for your lawn? Call our lawn care specialists today.
If you need crabgrass control services for your lawn, our team can help. We target crabgrass and other weeds like nutsedge and plantain through our weed control services. In early spring, we have a specific pre-emergent crabgrass control application to get a head start on curbing its growth. We apply additional treatments later in the spring and into the summer. Our lawn care specialists finish off your weed control schedule with one final application in early fall. Our tried-and-true process ensures your lawn stays free of crabgrass during the growing season.
Call (978) 582-1594 to speak with one of our lawn care experts about crabgrass control for your lawn in Concord, Leominster, and Lunenburg, MA.