In Massachusetts lawns, there's one thing you can count on to show up unwanted—weeds. Unless you have a routine lawn care program set up, you will see these weeds popping up throughout the year, invading your grass and taking away much-needed nutrients.
Learn about common Massachusetts weeds, why you don't want them in your yards, and how a lawn care program tailored for lawns can help you in Lunenburg, Leominster, Concord, and nearby cities.
---
Why You Don't Want Weeds in Your Lawn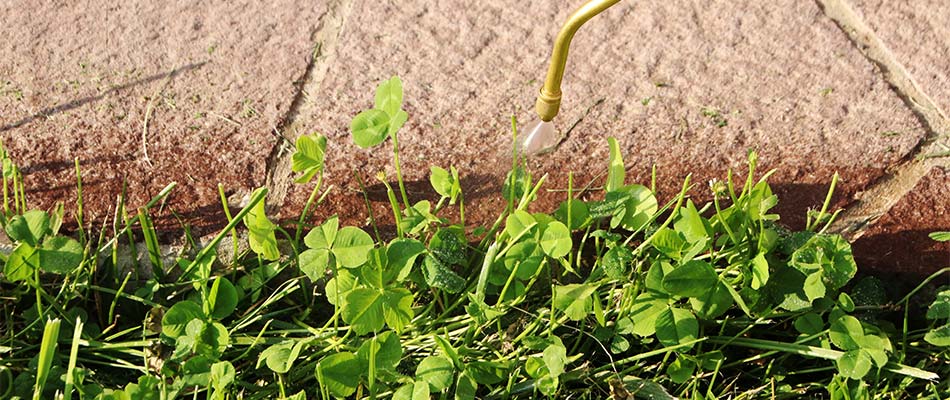 Besides the obvious unsightly look, there are several reasons why you don't want weeds growing in your lawn. Weeds grow and spread rapidly, meaning it's very easy for them to overtake your grass and sap away all the nutrients it needs to thrive. They decrease your curb appeal and can also destroy landscaping if left unchecked.
---
Common Weeds that Grow in Massachusetts
At Gatsby Grounds Company, we've been caring for Massachusetts lawns for more than 20 years. In that time, we've learned what weeds commonly grow in our area and how to treat them. Some of the common weeds we see when we visit residential and commercial properties include:
Clover: Clover is a broadleaf weed. It's perennial, which means it will come back year after year. Clover grows in lawns and landscape beds. When it blooms, you will see white flowers. The structure of clover allows it to grow well and compete against other weeds.
Crabgrass: If you have this weed in your lawn, you'll see it. The yellowish-green of the blades will stick out like a sore thumb from the rest of your lush, green grass. It's not easy to get rid of crabgrass because it spreads via seeding and it produces a lot of seeds. It's an annual weed, but the seeds it leaves behind allow it to keep growing unless treated.
Dandelions: One of the most common weeds we see, dandelion is another broadleaf weed easily distinguished by its yellow flowers or the whitish seed pods that children love to blow on and spread the seeds around. It's found in almost any area of a property and thrives in areas where nitrogen may be low.
Wild violet: Also known as common blue violet, this perennial weed is hard to completely eliminate unless the right types of products are applied correctly. It has heart-shaped leaves with flowers that are typically blue or dark purple.
Plantain: Another broadleaf weed, plantain shouldn't be confused with the plantain fruit. It's a weed that thrives in compacted soil, so getting rid of this one may require some aeration. It also loves moisture, so make sure your lawn has adequate drainage. Plantain leaves grow in a circle with stem-like flowers that emerge from the middle.
Nutsedge: This weed tends to show up in late spring or early summer, and it is notoriously difficult to kill. It's a perennial weed that resembles grass and spreads easily. In our area, we may see yellow or purple nutsedge. It's also called "nutgrass" because it does look a lot like grass, but beware of this weed because it can rapidly destroy your existing grass.
When it comes to weed control treatments, the best course of action is to be proactive rather than reactive.
---
How We Control Weed Growth in Your Lawn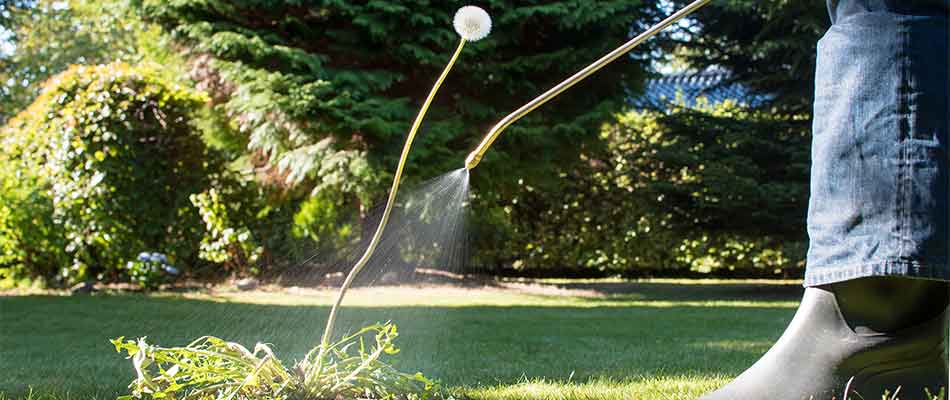 The first step to controlling weed growth is making sure your lawn is strong enough to fight off these invaders, and that starts with proper fertilization and pre-emergent weed control treatments. At Gatsby Grounds Company, we have created a lawn care schedule that addresses these services and helps keep weeds out of your lawn. From early spring to late summer, we apply different treatments to help ensure these plants don't attack your grass.
---
Do you have issues with weeds growing in your Massachusetts yard?
If your yard is full of weeds and you feel like the issue is overwhelming, give the pros at Gatsby Grounds Company a call. We will set up an estimate where we can address weed growth and any other issues we may see in areas such as Lunenburg, Leominster, Concord, and nearby Massachusetts communities. Our team is standing by at (978) 582-1594 or submit our online form and someone will contact you!