Hydroseeding is a process that involves spraying your lawn with a mixture of water, seeds, fertilizer, cellulose fiber, mulch, and other treatment agents. Many homeowners are opting for hydroseeding over sod installation or hand seeding due to hydroseeding's revitalizing properties.
Applying hydroseeding to your lawn improves its health, creates a fuller lawn, controls soil erosion, and more. Here is how hydroseeding revitalizes your lawn in Lunenburg, Leominster, Concord, and the surrounding areas.
---
Hydroseeding Improves the Health of Your Lawn
As the mixture goes through its natural decomposition cycle, it releases a wide range of beneficial nutrients that soak deep down into your soil and help your seeds thrive. Hydroseed is a thick mixture, creating the perfect natural weed repellent. Because hydroseeding promotes a thicker, more even lawn, there is virtually no room for weeds to sprout and grow. Fewer weeds lead to a healthier lawn that is more robust and can fight off pests, lawn diseases, and future weed growth.
Hydroseeding encourages a much deeper and stronger root establishment, which leads to a lush, dark, almost blue-green look that every homeowner craves. And because the seed mixture is sprayed on top of your soil, there is no transplanting of seeds into foreign soils and no shock involved from the process.
---
Applying Hydroseed Creates a Thicker, Fuller Lawn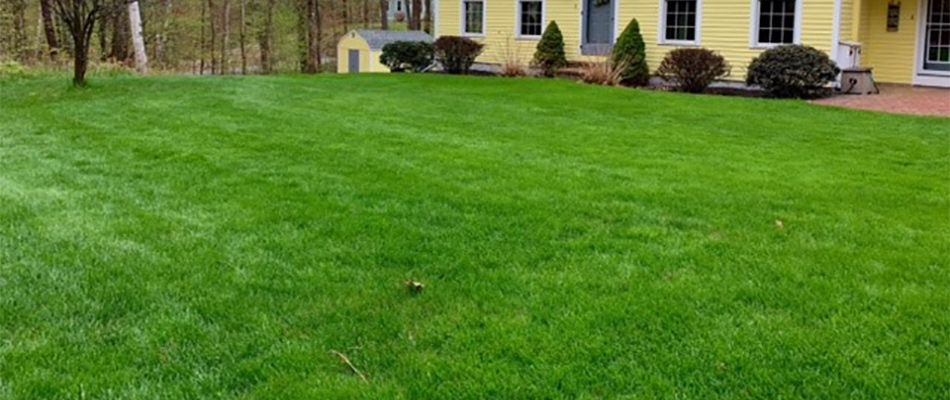 Hydroseeding promotes a thicker, fuller, and more uniform lawn. Interlocking fibers contained in the hydroseed mixture create the ideal growing environment for seeds. Because hydroseed is a spray that contains interlocking fibers, there are no visible seams in your lawn as with sod. When sod grows in, you can often see where the patches meet and form seams across your lawn.
Hydroseed, on the other hand, evenly covers areas and creates a barrier to keep seeds stabilized by retaining moisture, fertilizer, and other healthy growth-enhancing nutrients. This coating of seeds ensures all areas on your lawn are evenly covered, leaving no bare areas or patches when your grass grows in.
---
Hydroseed Mixture Provides Superb Moisture
With the ability to retain up to 10 times its weight in water, hydroseeding is one of the best methods for fast, healthy seed germination due to its superb moisture qualities. All the fibers and mulch contained in the hydroseed mixture help anchor it to your lawn and seal in moisture. Water is then slowly released, along with other nutrients, to the root system to continually replenish itself. This extra boost of moisture helps your grass' roots easily absorb the nutrients provided to them and grow strong and healthy.
Seeds that are applied to your lawn using hydroseeding have a much higher survival rate, germinate faster, and grow in stronger and greener than those applied using sod or hand seeding.
---
Hydroseeding Your Lawn Helps Control Soil Erosion & Improves Soil Quality
Many people use hydroseed to help control erosion and improve their soil quality. Hydroseed can be sprayed onto almost any type of land surface, even if it's sloped or uneven. The mixture clings very well to surfaces due to its thick mixture that contains a natural coagulant that adheres strongly to the soil. This makes hydroseed great for controlling soil erosion. Oftentimes workers will use hydroseed for roadside erosion control as the mixture can evenly coat slopes along highways and roads and prevent minor landslides.
---
Hydroseed Protects Seeds While They Germinate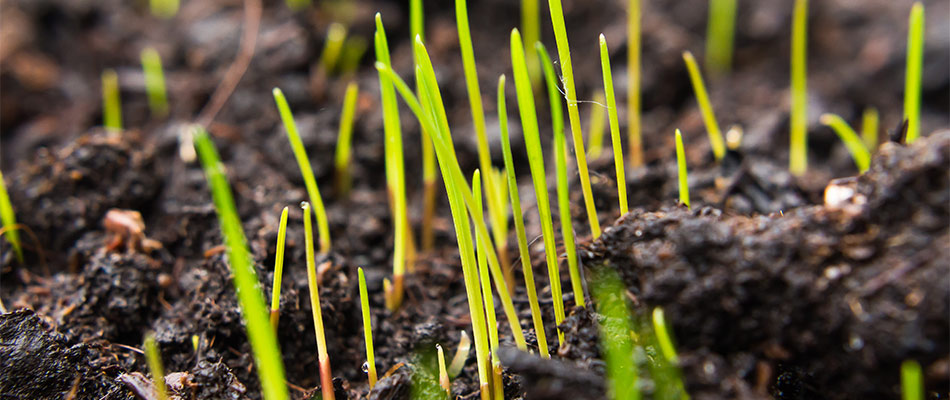 With high levels of nutrients and water retention, hydroseeding is great for protecting seeds while they germinate. Mulch and moisture in hydroseeding shelter your seeds from sunlight, wind, soil erosion, and other surface disturbances. Hydroseeding creates a barrier between your seeds and the outside world, and this barrier bonds strongly with your soil. While your seeds germinate, the mixture surrounding them provides tremendous amounts of nutrients and water to fuel their growth and provide continual replenishment.
---
Revitalize your lawn with our hydroseeding services.
Want to help revitalize your lawn with hydroseeding applications? Call us today at (978) 582-1594 to set up a consultation with one of our experts. We provide hydroseeding services for lawns throughout Lunenburg, Leominster, Concord, and the surrounding areas.